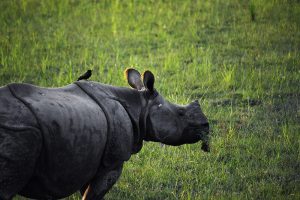 Kaziranga National Park is known all over the world for successful conservation of Great One Horned Rhinoceros. It is also home to a number of threatened wild animals and migratory birds. The Kaziranga Landscape comprises of sprawling grasslands, numerous water bodies and woodlands that provide an ideal habitat for a variety of flora and fauna. The flood plain ecosystem, which acts as important refuge of rich biodiversity, is the result of river Brahmaputra and its tributaries. Kaziranga is a large complex of rivers, lakes and marshes in flood plain of the Brahmaputra river. It is an extremely important area for larger mammals and birds- 17 species of mammals, 23 species of birds and 10 species of reptiles are in endangered list.
Duration - 2 Nights and 3 days
Day 1: On arrival in Assam our taxi will pickup you from the place of arrival and further drive to Kaziranga National Park by surface in a comfortable vehicle (230 Kms /5 hrs). Reach at the Kaziranga and check-in at the hotel. Overnight stay at hotel.
Day 2: In the morning get ready for a jungle safari in the National Park  in search of world famous one-horned Rhinos, tigers, elephants, water buffalo, swamp deer and many other species of mammals as well as a wealth bird life. After morning safari have the lunch and take rest for an hour and at 2 pm get ready for another jungle safari in different zone. After safari come back to hotel and overnight stay in hotel.
Day 3: After breakfast check-out from hotel and our taxi will take you for departure.
Taxi
Accommodation
Food – 2 time breakfast and 3 time meal
2 Jungle safari
Parking fees for taxi (if required)
Camera entry fee (if any)
Extra meal
Local Marketing
Extra Jeep Safari
Entry fee at orchid park
Entry fee for evening cultural show
Local sightseeing (ethnic village, picnic spot, orchid park)
Phone / Whatsapp
(+91) 8638444380
Emergency Contact
(+91) 9859546531
Email
bookings@kazirangaadventures.com